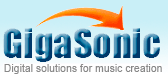 Toll Free: 888-246-4442
International: 408-573-1400
Akai MIDI Controller

At Gigasonic.com, we pride ourselves on providing Akai MIDI Controllers and Keyboards such as Akai APC20, Akai LPK25, etc. We carry top-quality products that you can count on for dependability and quality. And our expert service and amazing free shipping on most items add even more value to our Akai Professional MIDI Controllers and Keyboards stock.

Display Mode:
Sort By Name:
Price:

There are no products to list in this category.