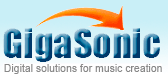 Toll Free: 888-246-4442
International: 408-573-1400
Novation V-Station Software Synthesiser
V-Station
has 400 user programs and 200 awesome factory presets
Sale Price:

$299.00

$249.99Save: 16%
| | | | | | |
| --- | --- | --- | --- | --- | --- |
| Description | | Related Deals | | Product Reviews | |
PLUG-IN FOR PC AND MAC

Novation V-Station
gets the same real 3-oscillator flexibility as the award winning K-Station' with awesome liquid analog filters' 8-voice polyphony' rippin' simultaneous FX and the kind of phatt sounds only a genuine Novation synth can offer. Novation V-Station is got masses of sophistication' acres of program locations and the flexibility of integrating it with your favourite sequencer/disc-based recording set-up.
EASY TO USE' POWERFUL IN OPERATION
And getting the best from the new V-Station is easy. All the primary sound-shaping controls are there on the main screen - clear' concise and refreshingly simple. Recall a named factory preset' tweak it to get 'your sound' and instantly save it in any of the 400 program locations. Need more? Just click and you'll find additional functions and controls on the other three screens.
THE ULTIMATE K-STATION/A-STATION PARTNER
For ultimate flexibility' why not partner a V-Station with one of Novation's award-winning hardware synths? As sounds created in the V-Station can be downloaded into the K-Station and vice versa' harmonising your gigging/studio set-ups and building mega-sound libraries is snap.
ANALOG MODELLED OSCILLATORS
Three powerful oscillators of Novation V-Station provide all the classic waveforms' including a sine wave for those sub-bass floor-shaking grooves. All waveforms feature a ???Double??? facility which provides twin waveforms with no loss of polyphony. Oscillators may be set to Unison or Synced operation and can utilise FM for the generation of metallic or percussive timbres. A noise source is also included in the waveform engine.
NOVATION WARM LIQUID FILTERS
Delivering the rich liquid sound of an analogue filter. Selectable low-pass' 12dB or 24dB cut-off curves with resonance and overdrive make Novation V-Station easy to recreate anything from a distorted TB303 to tight' rounded bass patch.
UNLIMITED MULTI-TIMBRAL PARTS
The V-Station delivers eight voices for each instance that is used. Call up an instance of the V-Station and there are immediately a further eight voices available with a new sound if desired. This ability to use multiple 'instances' allows the V-Station to run as many multi-timbral parts as the power of the host computer will allow.
INTEGRATED EFFECTS ON EACH INSTANCE
Novation set the industry standard with the famed Supernova synthesizer for providing a complete set of powerful effects on each part on the multi-timbral synthesizer. The V-Station adopts this sound structure which makes for six simultaneous effects per instance. The effects include a distortion unit that adds edge for harder sounds' a synchronised stereo chorus or phaser for spatial effects and a reverb that adds an extra dimension of realism. A synchronised panner and the delay engine complete the comprehensive line-up.
ARPEGGIATE' TWEAK AND SYNC TO THE BEAT
An arpeggiator with programmable speed' synchronisation and sweep range is available within each instance. Comprehensive synchronisation of time-based effects can be easily implemented. For example the delay effect may be set to a quarter note repeat whilst another LFO (built in to the effects unit) can sweep the phaser every two bars. All parameters respond to MIDI controllers which can be recorded in realtime on a track on the selected sequencer - set up a few instances' hit a single key and trigger a wall of sound. All running arpeggiators and LFOs can be individually synchronised to MIDI clock in different time signatures.
SHIPS WITH 200 STUNNING FACTORY SOUNDS
Covering a huge sonic range from searing leads to passionate pads' from delicate electric pianos to phatt funky bass. They're all there.
Novation-class Virtual Synthesis
Industry-standard VSTi (for PC and Mac OSX Platforms) and Mac OSX Audio Unit plug-in format
Ideal Hardware Synth partner
V-Station sounds can be downloaded into all Novation hardware synths and vice versa
Analogue Sound Modelling
Superb Liquid Analog sound based on K-Station sound engine
Arpeggiator with synchronisation lock
Play rythmical patterns in sync with an incoming MIDI clock
Simultaneous high quality effects
Including reverb' chorus' phaser' delay' panning' distortion' EQ and filter
Novation Synth Engine
Novation V-Station has powerful 3-oscillator sound engine with noise and FM capability
Presets
Novation V-Station has 400 user programs and 200 awesome factory presets provide an array of instant sounds
Plug-in format
PC: VSTi
Mac OSX: Audio Units and VSTi
Architecture
Voices: 8
Instances/Multitimbrality: Unlimited (in practice up to 4 on a 2.5GHz PC and up to
4 on a 1.25GHz dual-processor Mac G4)
Effects may be switched off to increase number of instances
Sound Storage
Programs: 400 Re-Writable (200 factory preset) for each instance
Compatibility: Programs from A-Station and K-Station can be uploaded and downloaded
Oscillators 1' 2 and 3
Waveforms: Square/Saw/Variable Pulse/Tri/Sine/Double Saw/Double Tri/Double Sine
Octave Range: Shift -2/-1/0/+1/+2
Mod Env Depth: -64 to +63
LFO1 Depth: -64 to +63
PWM Source: Mod Env/Manual/LFO2
Ring Mod: 1 * 2
FM: 2 * 3
2 * 3 FM Level: 0-127
2 * 3 FM Mod Level: -63 to +64
FM Env Attack Rate: 250uS-20 Seconds
FM Env Decay Rate: 1mS-20 Seconds
Comprehensive Aftertouch' Breath and Pitch/Mod Wheel control of both static pitch and modulation of pitch
Mixer
Osc 1 Static Level: 0-127
Osc 2 Static Level: 0-127
Osc 3 Static Level: 0-127
Noise Static Level: 0-127
Filter
Frequency: 5Hz-24kHz
Slope: 12dB/24dB
Modes: Low Pass
Resonance: 0-Self Oscillation (24dB mode)
Mod Env Depth: -64 to +63
LFO 2 Depth: -64 to +63
Cutoff: 0-127
Keyboard Tracking: 0-127
Overdrive: 0-127
Q normalise: 0-127
Comprehensive Aftertouch' Breath and Pitch/Mod Wheel control of both static filter freq and modulation of filter freq
Amplifier Envelope
Velocity: -64 to +63
Attack: 250uS-20 Seconds
Decay: 1mS-20 Seconds
Sustain: 0-127
Release: 1mS-20 Seconds
Mod Envelope
Velocity: -64 to +63
Attack: 250uS-20 Seconds
Decay: 1mS-20 Seconds
Sustain: 0-127
Release: 1mS-20 Seconds
LF01
Mode: Cyclic
Waveforms: Sine/Tri/Saw/Squ
Speed: 0 Hz-1Khz
Delay Fade In: 0-5 Seconds
LFO Sync: Internal/MIDI Clock
LF02
Mode: Cyclic
Waveforms: Sine/Tri/Saw/Squ
Speed: 0 Hz-1Khz
Delay Fade In: 0-5 Seconds
LFO Sync: Internal/MIDI Clock
Arpeggiator
Controls: On-Off/Speed/Octave range/Gate Time/Latch/pattern/MIDI Clock/Sync/Keysync
Effects
Reverb: Level/Echo Chamber' Small Room' Large Room' Small Hall' Large Hall' Grand hall/Decay/Wheel Level
Chorus-Phaser: Level/Rate/Type/MIDI Clock Sync/Feedback/Mod Depth/Centre/MIDI clock sync initial Position Wheel Level
Distortion: Drive/Compensation/Wheel Level
Panning: Position/Mod Depth/Speed/MIDI clock Sync/Initial Position
Delay: Depth/Time/Feedback/MIDI Clock Sync/Stereo Width/Ratio/Wheel Level
EQ/Filter: Depth/Freq/Mod Depth/Mod Speed/ MIDI clock sync/MIDI clock sync Initial position
Email Us
If you have any questions and prefer email, and a product specialist will respond shortly. We Reply Emails Fast!
Payment Options - More Info
We accept major credit and debit cards: Visa, Mastercard, American Express, Discover. We also accept PayPal, Google Checkout and Western Union.