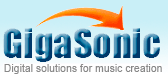 Toll Free: 888-246-4442
International: 408-573-1400
Yamaha Product Listing

Yamaha motif for a great price, count on the audio experts at GigaSonic.com, whether you're looking for a Yamaha piano for touring and performances or you're interested in purchasing a high-quality. We have a great selection of Yamaha products. As one of the top names in audio equipment, you can trust that the Yamaha keyboard or other product you purchase is a smart investment. Our knowledgeable staff will be happy to assist you, whether you want the Yamaha ydp223 or you're still looking into which products will work for you.

Display Mode:
Sort By Name:
Price:

There are no products to list in this category.