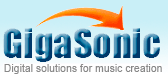 Toll Free: 888-246-4442
International: 408-573-1400
Home » Affiliate Program FAQ

Affiliate Program - Frequently Asked Questions

General Questions

What's an Affiliate Program?
You get paid when you link your website to Gigasonic.com and visitors to your site click through and make a purchase at our site. You can get paid a lot: with Gigasonic.com your referral fee will be 5 percent of the purchase total.
We do the hard work of converting potential customers into sales, collecting the money, and fulfilling the order. We handle all customer service and all reporting. All you've got to do is let your visitors know that Gigasonic.com is a great place to buy music instruments on the web, and the money should begin to flow your way.

Why use the Gigasonic.com Affiliate Program?

1. We offer 4% commission with performance incentives.

2. We have a 45 day cookie. When a visitor clicks through on one of your affiliate links, you will receive a referral fee for all sales made within 45 days of that click through. Many competing affiliate programs expire their cookies after only 1-2 days.

3. Very high customer satisfaction and low prices. The vast majority of our customers are satisfied with our service and our ratings are among the best in the industry.

How much does it cost to join?
It's free. We do not have an application fee or any minimum sales requirements.

How do I get started?

Read the Affiliate Agreement carefully.
Fill out our Affiliate Enrollment application.
Create affiliate links on your site.




Links

How do I create links to Gigasonic.com?
After you have submitted your affiliate application, we will show you simple instructions how to create special affiliate links for your site. You don't have to be an HTML expert -- even beginners can create links in just a few minutes.

Can I link to individual products?
Yes, you may create links to any products. You might also consider linking to a category page, such as " Pro Recording" or " Keyboards & MIDI".
Referral Fees

How much money do I earn per sale?
You will earn a 4% referral fee for each sale resulting from an attributable referral from your web site.

After I refer a customer to Gigasonic.com, for how long will I get credit for their sales?
You will receive a commission for all sales made within 45 days of the last click-through from your site. This period is also known as the cookie duration, since Special link tracking is done through placing a cookie on the user's browser.

Can my affiliate ID be replaced by another site?
Yes, Gigasonic.com will pay only one referral fee on each sale. If a user that your site previously referred to us clicks through on another site's tracking link, their tracking ID will replace yours. The last site that refers the customer to Gigasonic.com will receive credit for the sale. A sticky, content-filled site that users keep revisiting is the best way to ensure that users will have your affiliate code.

The affiliate reporting page shows that I made a commission last month, but I didn't receive a check. What gives?
If your outstanding referral fee balance is less than $50, we will hold those referral fees until the total amount due is at least $50.

Reporting & Account Maintenance

How do I track orders and know how much I should be paid?
We take care of the tracking for you via direct connection between our website and our warehouse mainframe. Once you've been approved and you have setup your Special affiliate links, you can get online reports and track your sales performance. Your results are updated each day to provide you with the latest information you need to monitor your performance.

How do I know how much money I've earned in a month?
Visit the Gigasonic.com web site and log on to the affiliate portal. You'll be able to see the sales and referral fees that you have generated.

How do I change my password?
Login in to the affiliate portal and select "View Account Info " from the menu bar on the left, then you will see the link of change password.

I forgot my password. What do I do?
Enter your affiliate id on this page and we will send your password to the email account listed when you originally filled out your application. You can also reach this page from the login page by clicking on "Forgot your password?"

Can non-US entities, i.e. individuals, businesses or organizations, join the Gigasonic.com affiliate program?
Yes. Referral Fees will be paid in U.S. dollars.