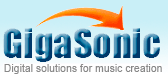 Toll Free: 888-246-4442
International: 408-573-1400
Home » Affiliate Feeds

Affiliate Feeds

General Questions

1. What's a data feed?
A data feed is a table of Gigasonic.com products that is downloaded regularly by an automated script that you write. The script then extracts information from the table and creates HTML that is viewable by visitors to your site. The data feed comes with short descriptions of each product, links to the product images, product prices, etc. Please note that this data feed is available to experienced users who know how to program a site using a data feed. Programming support is not available.

2. How often do you update your data feeds?
Our data feed is dynamically generated when you download it, so you are always downloading the most current information on our products.

3. What does the data feed cost?
Nothing. We have dropped the setup fee for the data feed.

4. How do I get started?
Read the information page and note the feed use limitations.
Contact us using this web form and indicate that you wish to setup a data feed.
Once we have approved you for the feed, we will enable the feed for your account. Return to this page and you will see a new "Download your feed" link. This link points to https://www.Gigasonic.com.com/feed-pickup/feed--affiliate.txt.

Feed use terms and conditions

1. The feed cannot be used as a basis for a shop-bot or price comparison tool. On any given page on your website, if you use the data feed to show a product image or description, you may not display competitor links on that page.

2. No more than 50 products may be displayed on a single page.

3. If you choose to omit Gigasonic.com prices on your site, the feed should be used to update your site at least monthly. Our customers want to see accurate information. If you show a product on your site that we no longer offer, this creates confusion and takes users away from products where you could be earning a referral fee. If your site displays Gigasonic.com prices, your website must be fully automated and do a daily update from the feed. If customers see one price on your site and then come to ours and see a different price, they will understandably believe that this is a bait-and-switch situation. They wonĄŻt buy and you will not profit. If we show that your site is repeatedly not posting updates in a timely manner, we will send you a notice that you need to resume your updates or remove the product links from your site. If you ignore the notice(s), we may suspend or terminate your affiliate account.

4. We may change the requirements to use our data feed program at any time. We want our affiliate partners to create web sites that provide real value to users while also promoting Gigasonic.com. Gigasonic.com spends a considerable amount of time and money maintaining and improving our product catalog. If we find that affiliates are using the data feed program to duplicate our product catalog without adding any value or affiliates are using it to promote our competitors, we may add significant restrictions to the data feed program to ensure that this does not occur.

5. The information contained in the data feed remains the property of Gigasonic.com and may not be transferred or sold to any other party. Use of the information in the data feed is limited to promoting Gigasonic.com and is otherwise governed by the Gigasonic.com Affiliate Agreement.