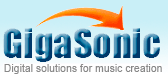 Toll Free: 888-246-4442
International: 408-573-1400
Home » Affiliate Information

Welcome to GigaSonic Musical Instruments Store Affiliate Program

International Musical Instruments Affiliate Program

Dear Affiliates! Welcome to Musical Instruments Store of GigaSonic.com affiliate program!

Why Gigasonic.com?

We are a fast growing online musical instrument retailer, specialized in pro audio recording equipment and recording software. We regard every Affiliate as one of our partners and provide favorable assistance to your affiliate marketing business.

Earn 4% commission.
45 days Cookie for return Visitors.
No risk or cost to you.
No minimum threshold.
Flexible payment options for customers.
Convenient and safe online shopping system.
Killer prices and super low international shipping costs.
Free shipping in North America on more than half of the items.

Who should join Affiliate Marketing?

Anyone who are running a music recording forum, blog, software sites, large corporate sites, personal sites, artist homepages, music teacher sites, non-profit sites and any other sites related to the music recording subject, or individual just participate in any instructive discussion group can all earn meaningful income from the GigaSonic Recording Equipment Store Affiliate Program.

How to set up?

1. Sign up - it's quick, easy and FREE!
2. Place links on your website to our website.
3. Earn a commission on every sale.
4. Track your earnings.
5. Develop Multi internet marketing channels and earn more.

A simple link to Gigasonic.com, or add an entire online musical instruments store to your site - and we'll do all the work! Your customers will get the best service, selection and price available in musical instrument store today. You can have peace of mind in knowing that we will take care of your customers. They will enjoy the same great service, low price, and customer support.

Commissions & Payment

We offer 4% commission with performance incentives.

Commission is based on a product's selling price but not including tax and shipping.

We pay your commission by check monthly or direct deposit through shareasale.com , approximately 30 days following the end of the calendar month in which it is earned. If a product that generated a commission is returned by a customer according to our 30-day return policy, we will deduct the corresponding commission from your next payment.




Join the Gigasonic.com Affiliate Program today and start earning your commissions on the best music gear on the market!

What you are reading is a marketing document that has been artfully constructed to arouse your interested in our affiliate program. It does not state the legal rights and responsibilities of the parties to our affiliate agreement. The actual, real deal is set forth in the affiliate legal agreement itself. Nothing stated here should be construed to extend, constrain, alter or affect the interpretation of that legal agreement, which states the rights and responsibilities of the parties to the affiliate agreement. As that agreement makes clear, terms of the affiliate program can be unilaterally changed by us. We anticipate that from time-to-time we will make changes in the way the program is structured.