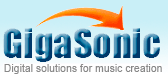 Toll Free: 888-246-4442
International: 408-573-1400
ART Product Listing

ART bulit their first line of high-definition equalizers and digital reverbs, since 1984 they have been applying their expertise in signal processing and preamp design. After that, their compact and reliable Tube MP line of preamps brought a whole new level of sound quality and affordability to home recordists hungry for "big studio" tonality on a budget. Nowadays, ART provides performers, live and studio sound engineers, even DJs with an array of great-sounding, practical, and affordable products. Get a huge sonic improvement for a minimal investment with ART products.

Gigasonic is an Authorized Dealer of ART Headphone Amplifier and Mic preamplifier.

Display Mode:
Sort By Name:
Price:

There are no products to list in this category.