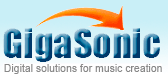 Toll Free: 888-246-4442
International: 408-573-1400
Home » All Brands

All Brands




Radial Engineering offers a wide array of products that are sold under brand names such as Radial, Tonebone, Primacoustic, Reamp and Zebracase. These are offered through a network of dealers and distributors that span the globe. Quality construction, exceptional audio performance and superb customer service are the underpins that have served to make Radial one of the most respected and trusted brands in the industry.

Acoustica was founded in 1998 and is located in the foothills of the Yosemite Valley. In January 2002, it officially became Acoustica, Inc. Acoustica's mission is to create high quality, intuitive and powerful software. The motto is "Software Should Be Easy To Use!"

Adam Audio was founded in March 1999 in Berlin. Since then the company has been developing, manufacturing and distributing loudspeakers in the field of Professional Audio.

AKG Microphone a company with 60 years of engineering and sound know-how, offers wireless, wired, mini, in-ear and studio headphones in more than 140 countries. Passion for detailing and for pioneering technology! At AKG, we consistently develop innovative, high-quality products with aesthetic design for enhancing people's quality of lives by bringing music and emotions.

Arturia music software

is located in Grenoble, France. It is a maker of innovative electronic music software and tools focusing on software emulation of classic synthesizers. Arturia's software versions of the

ARP2600

, Moog Modular and

Minimoog

, and Prophet V bring the sounds of these legendary instruments to the world of computer-based music.

Gigasonic is proud to be a Authorized Dealer of Arturia products. We offer both retail and academic versions of Arturia products at the best prices available.

Ashly Audio Inc. is recognized as a world leader in designing and manufacturing quality signal processing equipment and power amplification for use in the commercial sound contacrting and professional audio markets.

Audient is renowned worldwide for delivering quality, affordable products that are in-tune with users working preferences and which deliver outstanding audio quality and ergonomic elegance.

Audix microphones

has quickly become one of the top names in microphones and speakers, bringing American-made, professional quality to the demanding musician at surprisingly affordable prices. The

D2

,

D4

, and

D6

Dynamic Drum Microphones made a name for Audix amongst working drummers, and the rest of their mics, speakers, and wireless systems uphold the company's reputation for excellence.

Gigasonic is proud to be Audix Authorized Dealers. Browse our selection or give us a call for individual Audix microphones and packages at the best prices available

Avalon pure Class A recording systems give the world's leading engineers, producers and musicians the state-of-the-art electronics designed especially for high-fidelity music and sound recording. Avalon's advanced true symmetry design provides high-voltage, large headroom, extended bandwidth and very low noise. The use of 100% discrete, Pure Class A signal amplifiers offer the serious music professional unlimited sonic character and a natural harmonic detail that enhances the program material and becomes one with the music itself.

Behringer offers bass and guitar amps, signal processors, mixer and speakers. The EUROLIVE series of Behringer speakers are available in powered and unpowered models, as floor monitor units and standards speaker enclosures. They come in a variety of sizes and power ratings and were designed to complement the EUROPOWER powered mixers. As you know, Behringer mixer gives users control of their sound for a balanced mix.

Behringer also provides studio condenser microphones such as Behringer T-1 and the TRUTH series studio & active monitors including Behringer B1031, Behringer B3031A, etc. You can trust and let the professioanls at Gigasonic professional recording equipment to help you choose the right microphones and monitors according to your demands.

Beyerdynamic was founded in 1924. As a German audio equipment manufacturer, Beyerdynamic produces microphones, headphones, etc. Most of the products are made in Germany.

Blue microphones

are more than just a recording tool - they're an example of quality and expression, as well as value. With the input of expert engineers and discriminating musicians, Blue mics encompass a wide variety of recording needs - from studio to live applications, from Rock and Pop to Jazz and Classical and everything in between.

Gigasonic is an Authorized Dealer of Ableton software.

BOSS is the division of Roland Corporation most easily recognized for its legendary line of colorful guitar effect pedals and bass effects pedals as well. But beyond these killer pedals, BOSS has pushed the envelope for over 25 years with innovative music equipment multi-effects, rhythm machines, personal digital studios and other easy-to-use instruments for musicians of all types. Put simply, BOSS gives you the great-sounding tools you need to spend less time tweaking and more time playing.

Casio

specializes in

digital pianos

that combine modern electronic capabilities with the feel and sound of traditional pianos. From the portable PX series to the

full-sized AP80R

that looks and plays like a modern upright, Casio digital pianos feature professional features in affordable, performance-ready packages.

Gigasonic is an Authorized Dealer of Casio digital pianos, offering unparalleled service and unbeatable prices. Give us a call and we'll help you select the Casio digital piano to take your music to the next level.

Crown is the world's largest and most respected manufacturers of power amplifiers and microphones for professional audio markets.

dbx - a manufacturer has enhanced its product line with new versions of its industry leading high-performance graphic equalizers, compressors and crossovers. The S Series products are not only the next generation of the industry's most successful signal processors but they feature platinum front panel and four color packaging with informative application suggestions for each product.

Earthworks is a New Hampshire, USA based company that is dedicated to quality and sonic excellence. Each Earthworks product is made with great care, meticulous attention to detail and a strong emphasis on quality.

Focusrite

was established in 1985 on the founding principals of developing products that sounded more musical. Today's new breed of Focusrite gear, including the

Saffire

Firewire recording interface, lives up to those principals by bringing high quality digital audio to the professional and desktop studio alike.

Gigasonic is proud to be a Focusrite Authorized Dealer. Give us a call and learn what the Focusrite Saffire can do for your project studio.

Fostex is the sole manufacturer of the iconic iPod earbuds marketed by Apple Inc. for their iPod and iPhone models.

IK Multimedia Production is an international music software company, privately founded in 1996 for the purpose of developing a new generation of music software designed to take advantage of the fast growing personal computer performance and revolutionize the way people compose and play music.

Since its formation, IK has produced a wide range of breakthrough innovative products, from consumer to professional music software, that have been awarded by users and media worldwide as well as referenced partners such as Intel®, Apple®, Digidesign®, Mackie®, EMU®, Roland®, Cakewalk®, MOTU® and many others.

IK Multimedia unique approach to innovative music software has allowed the development of one of the widest and fastest growing range on the market: from DJ and re-mixing to loop and sound collections & high-quality effects processors for the studio to cutting-edge software musical instruments for keyboard players and guitarists.

Image Line is a privately held software company that started in 1994.

JBL Audio is a well-know loud speaker maker. Buy JBL Speakers at authorized JBL dealer GigaSonic.com now!

Korg keyboards and MIDI controllers can be found on our website. Musicians worldwide trust and rely on Korg gear to make their music. You'll find the Korg KAOSS series sound processors, with its innovative touchpad design to give you realtime control of effects and sampling with the touch of a finger. You'll also find Korg synthesizers, many of which incorporate technology from Korg Oasys the ultra-sophisticated workstation and sequencer with an exceptional sound engine and the revolutionary KARMA system.

KRK System was founded in 1986, by Keith Klawitter. He had been an engineer for years working on such films as "Brainstorm" and "The Doors". Frustrated by the fact he couldn't find a monitor that gave him clarity and accuracy, he began building his own monitors. Other engineers and producers began to take notice of Keith's high-end studio monitors, a groundswell began and a company was born. They also began commissioning him to build custom main systems as well. We attribute this remarkable beginning to Keith's affinity for electronics, his passion for music, and his originality and insight. Great sound doesn't start with the studio, the microphone or the latest wiz-bang sampling device. It starts in the heart, and it starts with the truth...the very essence of the KRK design philosophy. This is why we come to work everyday. To deliver products that are true to the legacy that KRK was founded on.

Lexicon became the world leader in digital audio, with the introduction of the world's first digital processor in 1971. Since that time, Lexicon has continuously introduced ground-breaking technology to the audio industry. Today, Lexicon processing is heard on over 80% of all recordings- broadcast, film soundtracks, and music alike. In the home theater market, Lexicon sound is the acknowledged measure of excellence.

Line 6 founded in 1996 in Calabassas California, is best known for innovative modeling technology, which is used in amps, effect processors and musical instruments to emulate classic and contemporary guitar sounds. They amassed a collection of sought-after vintage amps and effects, and meticulously measured and analyzed every tonal aspect of their tubes and circuitry. After years of research, Line 6 launched the world's first digital modeling guitar amplifier. The incredible flexibility of Line 6 modeling can bring you a lifetime's collection of vintage and modern guitar and bass sounds for whatever type of music you play.

Gigasonic has long been a Line 6 Authorized Dealer. Whether you choose one of the world-famous Line 6 Relay Wireless, XD-V wireless, POD HD300/400/500, James Tyler Variax Guitars, DT50 amplifier or POD Farm , you'll be in command of a versatile and powerful array of tone.

Gigasonic and Line 6: Digital modeling with no compromises!

MakeMusic is the world leader in software and systems for music educators and musicians. Among our leading products are Finale®, the world's best-selling music notation software and SmartMusic®, the complete music practice system that features Intelligent Accompaniment® and the world's largest interactive accompaniment library.

Mogami the premier cables for the music recording industry, and MXL Microphones, the standard in affordable music recording technology. Marshall Professional Audio Division & Cable and Connector Division are preferred suppliers to the professional audio community. Among the many products manufactured and distributed by these divisions are Tajimi precision connectors (including Fiber Optics).

MOTU is a leading developer of music software and audio recording technology for personal computers. MOTU was founded in 1980 and has been developing music software since 1984. MOTU products appeal to all levels of music computer users, from weekend hobbyists to world-class recording studios. Top performing artists and film composers use MOTU products in their daily music-making. MOTU is based in Cambridge, Massachusetts, across from Boston, on the shores of the Charles river.

Native Instruments is the pioneer and market leader in the field of software instruments, and one of the key players in the market of computer-based audio production technology. The company's mission is to develop outstanding tools for musicians, producers, sound designers and DJs of all styles and genres. The resulting products regularly push technological boundaries and open up new creative horizons for professionals and amateurs alike.

Nord

commitment to quality and dependability that means you can make music with confidence. In addition, buying Nord gear, you're also getting the finest base of expertise, support, and service in the industry to back it up. We make sure to provide you with the right tools for your needs, so you can make the most out of your musical investment.

Get Nord Products with lowest price at Gigasonic.com NOW!

Novation

has spent the last twelve years building an unrivaled reputation in the world of analogue modeling synthesizers and controller keyboards. Innovative Novation products like the

Remote SL

range of MIDI controllers combine quality hardware with technological innovations like Automap, which virtually eliminates the need to reprogram your controller to work with multiple software instruments and applications.

Gigasonic is proud to be an Novation Authorized Dealer, bringing you the finest MIDI controllers and synths backed by the finest service and support in the industry.

Pioneer was founded in 1938 in Tokyo, Japan by Nozomu Matsumoto - a man with a passion for music that he hoped to share with the world through high quality audio speakers. That passion began with a small operation to repair and manufacture speakers in Matsumoto's garage. It has since grown to international stature as a manufacturer of audio and video products for use at home, in the car and in business environments. The element that has not changed in nearly 70 years is the passion for audio and video products that we hope to share with the world. From the employees at our research labs looking for the "next big thing" to the engineers at our factories focused on quality assurance to our product trainers explaining the new technology to our customers - we remain passionate about creating an unbeatable entertainment experience.

PreSonus Audio has been serving the music community by delivering audio products at reasonable prices for many years. Must-have products from PreSonus include the PreSonus FireBox, the PreSonus FP 10 (formerly known as the PreSonus FirePod), and the PreSonus FireStudio FireWire Recording Interface. If you are a musician or an audio professional, you should definitely own one or more audio gears from PreSonus.

Sound quality which was once possible only with expensive recording studios can now be achieved on your computer using the PreSonus FireBox 24 96 FireWire. If you are looking for the ultimate recording system, check out the PreSonus FP 10 Interface & Steinberg Cubase 4 Bundle from GigaSonic. The FP10 bundle comes with Steinberg's sophisticated Cubase LE audio software, a 48-track recording program. The PreSonus FireStudio FireWire Recording Interface has it all. Its rare combination of advanced hardware and software features, like its eight Class A PreSonus microphone preamplifiers, make it a great choice. Buy all your PreSonus audio gear from GigaSonic for a complete and unparalleled digital recording experience.

Gigasonic is proud to be a Presonus Authorized Dealer, offering the Firepod Recording Bundle and a range of Presonus gear at the best prices available.

Propellerhead has renowned for its musician-centric approach, and created some of the world's most innovative music software applications & interfaces.

Musicians, producers and the media have praised Reason and ReCycle applications for being inspiring, great sounding and of superior quality. The products of this manufacture are used by hundreds of thousands of professionals and enthusiasts worldwide for all kinds of music making.

Rane Audio Corporation, founded and incorporated in 1981 in Washington State, is a manufacturer of lines of professional audio gear, including Rane mixers, processors, amplifiers and reinforcement accessories. Rane Corporation today is an established innovator in providing problem-solving professional audio tools, affordably priced, with unequalled reliability.

RME Audio

has earned their stripes as an industry leader in innovative, user-friendly, and high-end digital audio solutions. RME products such as

Fireface 800 56-channel FireWire audio interface

and Hammerfall multitrack recording and HDSP systems quickly became industry standards with good reason. RME's build quality and performance is second to none, as judged by audio professionals worldwide.

Gigasonic is honored to be Authorized Dealer of RME "Intelligent Audio Solutions" in Northern California. Whether you have a Desktop or Laptop computer for audio production, let us guide you through the RME product line to find the solution that's right for you.

Roland Audio Equipment

Corporation U.S. founded in 1972, has stayed true to their slogan to inspire the enjoyment of creativity through consistently delivering the goods. It's a leading manufacturer and distributor of electronic musical instruments including Roland keyboards and synthesizers, guitar products, electronic percussion kits, digital recording equipment,

studio monitors

, amplifiers and audio processing devices. Shop the biggest selection of

Roland keyboards

, electronic percussion, and synthesizers at GigaSonic.com now!

Sennheiser was founded in Germany in 1945, and it's the acknowledged world leader in microphone technology, RF-wireless and infrared sound transmission, headphone transducer technology and in the development of active noise-cancellation. You can expect a prime blend of performance and value from Sennheier, whether you need a great microphone for your amplifier, drums, vocal performances, a total wireless audio system or great-sounding headphones for the studio.

Shure has delivered affordable microphones that are built to last and produce accurate sound quality since its inception in 1925. For decades, musicians have turned to Shure audio products for professional wired and wireless microphone systems engineered to meet the needs of the most demanding touring environments and installations.

Sony

is known around the world as a premier name in the world of audiovisual production. Sony's professional lines of audio and video production equipment, music software, and accessories are relied upon when only the best will do. Sony DVCAM camcorders and video decks are used by broadcast professionals across the globe, and their new line of high definition video equipment is nothing short of stunning.

Gigasonic is honored to be a Sony Authorized Online Dealer of Sony professional audio/video and music products in Northern California. When only the best will do, choose Sony and Gigasonic for no compromises in your professional production equipment.

Soundcraft, part of the Harman Pro Group, is still very much the dedicated professional mixing console designer and manufacturer it was back in 1973. Now, Soundcraft boasts a range of mixers, which are designed for use in live sound, recording, post-production, TV and radio production and disco applications.

Stanton product ranges include Digital DJ Controller, SC Systems, CD Players, Mixers, Turntables, Headphones and so on. With over 50 years of innovation, this manufactor is the name DJs trust.

Gigasonic is proud to be Stanton Authorized Dealer. Browse our selection or give us a call for Stanton items at the best prices available

Steinberg

is founded in 1994 by a musician and an audio engineer set on developing the first MIDI multitrack sequencer, and became an industry force with the release of Cubase in 1989.

Steinberg Cubase

is the Digital Audio Workstation (DAW) choice of countless professional engineers and home studio enthusiasts worldwide. Along with the media production system

Steinberg Nuendo

and

Steinberg WaveLab

audio editing application, Steinberg Cubase has helped make Steinberg one of the leading names in

computer audio recording

. Popular Steinberg products like cubase 4, cubase se, nuendo 3, wavelab 6, wavelab essential, etc.

Gigasonic is honored to be an authorized online dealer of Steinberg software in North America. Our knowledgeable staff will be happy to help you learn about Cubase software, Nuendo software and all of Steinberg's other products, and choose the software that can help you turn your ideas into music.

Suzuki has been an important part of school music programs in the United States and around the World for over fifty years. Unique and innovative, our musical instruments bring the joy of music to millions. As the World's largest producer of musical instruments for education, we take special pride in designing and building a complete selection of products for your educational classroom.

Tascam has always been synonymous with recording - from the first TEAC open-reel recorders in 1953 to the introduction in the late '70s of the ever-popular Portastudio cassette multitrack, to the the modern line of heavy-hitting digital workstations and interfaces. TASCAM now features digital mixers, surround monitoring systems, converters, line amplifiers, and powerful software samplers and plug-ins.

TC Electronic was founded in 1976 and its product ranges include guitar effects, bass amplification, computer audio interfaces, audio plug-in software, equalisers, guitar effect processors and meters. But now, this company is a leader in digital signal processing, and a major player in other aspects of the digital audio technology world, such as digital amplification and networking.

TC-Helicon products are dedicated to improve your vocals. In mythology, Helicon is a place where speaking and singing voices are elevated to their very highest levels. You can elevate your vocals with sophisticated, yet user-friendly TC-Helicon products, including pitch-correction and harmonizing plug-ins, stage monitors, rackmounted vocal effects processors, even footswitch-controlled preamps with onboard vocal effects. Be it plug-ins, processors, or preamps, you're capable of taking your voice to a new level with TC-Helicon.

Teenage Engineering products deliver outstanding quality and bang for the buck. Your music is important to you, and Teenage Engineering can help you make it the best it can be.

Ultimate Support Systems, Inc. traces its roots to 1977, when company founder, musician and inventor Darrell Schoenig developed an alternative to the existing speaker stands, which were unwieldy and unsightly. His solution, a compact, durable, aluminum stand crafted from parts of a hang-glider, was the prototype for the first in a series of pioneering support stands for speakers.

Ultrasone is specialised on headphones. Day-to-day commitment leads to explicit expert knowlede. Constant development leads to high quality headphones equipped with latest technologies.

Designed in Milano, V-MODA's verve is to amplify an authentic music lifestyle via timeless products forged by unparalleled quality, fashion-forward design and an unequivocal passion for music and materials. V-MODA Crossfade products have won 30+ editors' choice awards and have become essential gear for the world's top professional DJs.

Vox kicked off its line of guitar amplifiers back in '57. It took only a few years for the AC15 and AC30 to become instant legends, defining the sound of the British Invasion for the UK and the world.

Warm Audio was founded in 2011 'in the garage' upon a simple principle, which was to build sonically high-end recording products, but to also make them affordable to the everyday musician and recording engineer.

Warm Audio manufactures popular coveted pro audio equipment including; microphone preamplifiers, compressors, equalizers and microphones that are designed, developed and tested in-house in Texas, USA.

Westone has been at the forefront of in-ear musicians' monitoring technology since the early 1990s, developing both custom and universal-fit products. With hearing care and music specialists on our research and production teams, Westone is uniquely qualified to provide the best performing, best fitting, highest quality products.

Yamaha

motif for a great price, count on the audio experts at GigaSonic.com, whether you're looking for a

Yamaha piano

for touring and performances or you're interested in purchasing a high-quality. We have a great selection of Yamaha products. As one of the top names in audio equipment, you can trust that the

Yamaha keyboard

or other product you purchase is a smart investment. Our knowledgeable staff will be happy to assist you, whether you want the

Yamaha ydp223

or you're still looking into which products will work for you.

Yellow tools and Best Service agreed to an exclusive cooperation for the product distribution in Europe as well as an extensive collaboration that will essentially affect the entire future product development of both parties. Starting June 1st, 2008 the distribution of all yellow tools products - containing the software sampler "Independence Pro", the Independence Instruments "Candy", "Culture" & "Majestic" and the premium DSP products "Freedom" and "Origami for all of Europe will be done through the company Best Service.