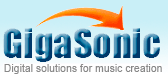 Toll Free: 888-246-4442
International: 408-573-1400
Cortex Product Listing

Cortex is a digital audio controller company that specializes in bringing advanced technology to the DJ and professional audio community. Since debuting at the 2006 Winter NAMM tradeshow, Cortex has received rave reviews with its intelligent, patent-pending, host-controller based digital music platform.

Cortex makes great efforts to break open creative new possibilities to further advance and revolutionize music performance, transforming today's DJ into tomorrow's DJ through constantly embracing new forms of technology.

Display Mode:
Sort By Name:
Price:

There are no products to list in this category.