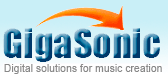 Toll Free: 888-246-4442
International: 408-573-1400
Echo Product Listing

Echo Digital Audio Corporation introduced its first PC sound board over two decades ago and moved into the professional digital audio market in 1997. Since then Echo has been a pioneer in multitrack recording and digital signal processing and continues that tradition with new products like the AudioFire line of Firewire recording interfaces.

Gigasonic is a Authorized Dealer of Echo digital audio for desktop and notebook computers. Our relationship with Echo allows us to bring you their line of PCI, Cardbus, and Firewire-based systems at unbeatable prices, all backed by our knowledgeable sales and support staff.

Display Mode:
Sort By Name:
Price:

There are no products to list in this category.