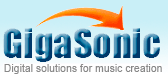 Toll Free: 888-246-4442
International: 408-573-1400
Edirol Product Listing

Edirol is one of the newest brands of the Roland Group, specializing in high-quality tools for desktop audio recording and computer music. With a range of products including recording interfaces, MIDI controllers and portable digital audio recorders, Edirol brings durability, performance and value to the computer musician and multimedia production specialist.

As an Authorized Dealer of Edirol products, Gigasonic backs every product we sell with years of experience and knowledge. We'll help you pick the right piece of gear for your studio or stage.

Display Mode:
Sort By Name:
Price:

There are no products to list in this category.