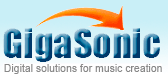 Toll Free: 888-246-4442
International: 408-573-1400
Home » Buying Guides » Audio Interfaces

Are you a computer music enthusiast, have fun shopping in the Gigasonic, we provide a vast collection of sophisticated audio interfaces. Music rules the world today and so does sophisticated music. Digital music shook the world with its sharp sounds and astounding quality, and soon after that a lot of devices were developed and many were successful as people became crazy on computer music. The usage of sound cards have become history nowadays, audio interfaces have gained a lot of importance and they are still climbing their ladder of success.

Interfaces have to be compatible with your computer's operating system; this becomes the primary and major requirement when you purchase an audio interface.

What is an audio interface?

An audio interface is what the computer will use to record and output sound from the system to connected speakers/amplifiers.

How audio interfaces can be connected with computers?

Audio interfaces can be either connected with computer by an external way or by an internal way. But the common way of connecting can be made with an internal PCI card, which fits into one of the PCI slots on the computer's motherboard.


Hunting for exceptional audio interfaces?

There are so many interfaces available in the market but the way of choosing it might be daunting.

Internal audio interfaces have come with a supplementary front bay, which houses the interface's main inputs and outputs to which one can affix instruments and outboard gear.

USB Audio Interfaces are also obtainable in the market which can be used for mobility and the inputs/outputs are easy to get.

Why should one opt for an audio interface?

One would opt for an audio interface mainly because of three reasons:

• Analog-to-digital Converters
• Designing
• Manufacturing


Each audio interface has analog-to-digital converters so that signals from the microphone or any instrument can be converted to digital form effortlessly.

The design and manufacture of analog-to-digital converters is like rocket science. In particular we can say that it is beyond rocket science. Where audio design, both analog and digital can be done in a back room efficiently. The design of converters requires the best brains in the world.

Next the manufacturing property, the manufacturing of an analog-to-digital converter requires a state-of-the-art semiconductor facility.

In a world that inherently must combine analog and digital audio, computer recording interface<, the analog-to-digital converter is powerful, and we deserve to know its source.