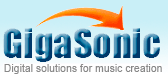 Toll Free: 888-246-4442
International: 408-573-1400
Home » Buying Guides » Computer Music

Technology and sophistication rule the world today; listening to music through a normal audio player has become history. Developments in all aspects of technology have driven man to the extent of making the impossible, possible. The field of music is no exception to this.

Electronic or computer music originated in the twentieth century, this is the period when new devices were invented. Geoff hill was an Australian and he was the first person to generate computer music on the CSIRAC computer. After that many organizations and institutions were dedicated to the study of electronic and computer music.

Welcome to Gigasonic, we offer the best possible computer music, which has the potential to drive one crazy. Our high quality computer stuff never fails to transfer the essence of genuine music. We provide a wide range of audio interfaces, MIDI interfaces and music software.

Drench yourself in the pool of eminent music provided by the Gigasonic, where supreme quality takes up the first priority. Our products are results of the application of innovative or existing technologies in the areas of music, sound diffusion, sound synthesis and digital signal processing.

Analog representations of music have lost their charm, while the sharp digital music has established its reign. People nowadays are becoming crazy on digital music, because the digital representation of sounds can be manipulated efficiently. They do not remain mundane and monotonous.

Why this fuss about computer music?

A lot of musicians have started using computers as their main tool nowadays, so equip yourself with the fascinating stuff from Gigasonic.

People are turning towards computer music because they provide a number of options like filtering, volume can be adjusted for a specific part of frequency spectrum alone, time delay, special simulations like echo and reverberations can be achieved, and we can also alter the pitch and vibration.

MIDI and audio interfaces are gaining a lot of popularity nowadays; this is due to their easy operating style and adaptable nature.

Are you in pursuit of a suitable computer music, then Gigasonic is the right place to satisfy your hunger. We offer pioneering products at affordable rates. Beware, because you might find yourself excessively attracted to our products and will want to purchase everything.

We also offer special bundles, which have many implausible devices clubbed together. You are also provided with a lot of discounts in these special bundles. The devices include portable laptops, analog mixers and M-audio sound cards.