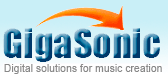 Toll Free: 888-246-4442
International: 408-573-1400
Kurzweil Product Listing

Kurzweil products are well supported by the musical community. The music insdury was astounded by its capability of emulating a piano, strings, choirs, drums and other acoustic instruments with extraordinary accuracy when the K-250 was introduced in 1983. Nowadays, Kurzweil continues that legacy with the wildly successful K2600-series keyboard workstations, powered by Variable Architecture Synthesis Technolog that is the state-of-the-art synthesis system, which gives giving artists powerful expression tools not available with any other brand. With V.A.S.T. at their disposal, Kurzweil keyboards continue to stay ahead of the pack.

Display Mode:
Sort By Name:
Price:

There are no products to list in this category.