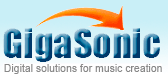 Toll Free: 888-246-4442
International: 408-573-1400
NS Design Bowed Electric Instruments

NS Design was established in 1990 by famed instrument designer Ned Steinberger to develop electric string instruments. The main focus is on bowed instruments including the violin, viola, cello and double bass.

GigaSonic is an Authorized Dealer of NS Design instruments, offering unparalleled service and unbeatable prices. Give us a call and we'll help you select the best instruments for your requirements.

Display Mode:
Sort By Name:
Price:

There are no products to list in this category.