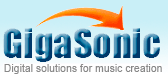 Toll Free: 888-246-4442
International: 408-573-1400
Ultimate Support Product Listing

Ultimate Support Systems, Inc. traces its roots to 1977, when company founder, musician and inventor Darrell Schoenig developed an alternative to the existing speaker stands, which were unwieldy and unsightly. His solution, a compact, durable, aluminum stand crafted from parts of a hang-glider, was the prototype for the first in a series of pioneering support stands for speakers.

Display Mode:
Sort By Name:
Price:

There are no products to list in this category.