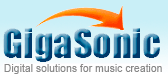 Toll Free: 888-246-4442
International: 408-573-1400
Casio Digital Pianos

Casio Digital Pianos are branded under the name "Privia". It has a becautiful sound and great tones, allowing it to complete hand in hand with other brands like Yamaha and Roland.

Featuring 88 hammer action keys is one of the great features of the Casio Privia Digital Piano. The keyboard of the instrument offers a good blend between the harder low notes and the light and easy to play high notes. This results in an overall great playing experience that will allow the player to truly feel the keys as they are played.

The Casio Privia Digital Piano allows you a realistic and expressive playing experience. Later, you'll find that the instruments created by Casio Digital Pianos are extremely light weight and truly easy to carry around. For example, Casio PX 130 and Casio PX 330, only weight 25 pounds.

Display Mode:
Sort By Name:
Price:

There are no products to list in this category.