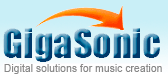 Toll Free: 888-246-4442
International: 408-573-1400
PCMCIA Audio Interfaces

PCMCIA (Cardbus) Audio Interface provides a portable solution for the digital music world. It comes in a variety of configurations and types. Brands like Echo, Emu, and RME provide the best PCMCIA Audio Interfaces (Cardbus) which include laptop digital audio system, convenient and powerful pro audio recording, HDSP Laptop interface.

Display Mode:
Sort By Name:
Price:

There are no products to list in this category.